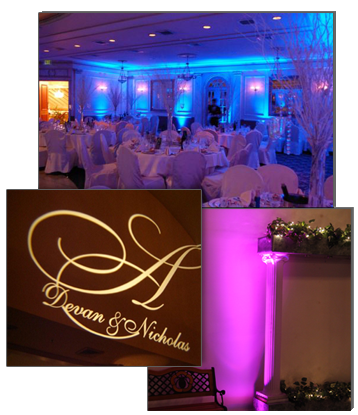 Add Elegant Uplighting to your Event
Imagine the moment when your guests enter the reception and vibrant lights splash up the wall and columns.
Uplighting turns ordinary events into spectacular ones. Lighting can transform a drab venue into a vibrant one.
Stunning, vivid, and dramatic are words used to describe the multitude of lighting options we can provide.
Let us help you add that special extra touch. After all, who knows more about lighting, and how it can enhance (or harm) your reception photos than your photographer!
Scroll down for more information.
Take your event to the next level
Our lights sets the tone for your event and can match and accentuate your theme and decor.
Uplighting on walls, columns or spotted onto specific areas will bring a beautiful and stimulating feel. You can even place them outside and shine them up trees or into bushes, fountains or gazebos. You may also change colors from the ceremony to the reception. Personalize your wedding or event even more with your own monogram ("Gobo") shining on the dance floor.
Our lights have no messy wires and are cool-to-touch L.E.D. lights which can't harm kids or decor.
Starting at $495
Contact Us