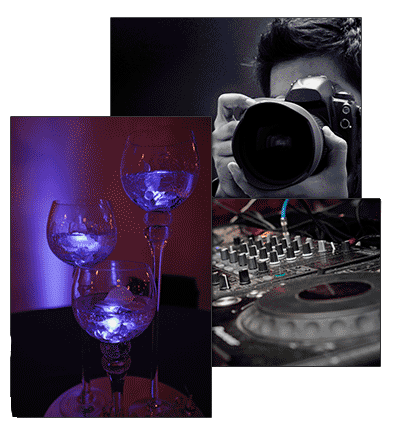 Bundle Services and Save!
Create your custom 2, 3, 4 or 5 service bundles
Save $100 off most additional services you add after the first one
Cut costs-not quality, with bundled packages…We ask a lot of questions about the vision and timeline of your day. Then custom design packages to fit your needs and budget. Choose one service, or all five
DJ service (4 hours) — starts at $995 or less when you bundle
Photography (4 hours) — starts at $1,950 or less when you bundle
Videography (4 hours) — starts at $1,950 or less when you bundle
Photobooths (3 hours) — starts at $595 or less when you bundle
Room Lighting — starts at $495 or less for 12 lights when you bundle
Get in touch with us for a price quote!
Contact Us
Save Time...
Establish one relationship with one company. One contract, and one point of contact simplifies your planning process. Don't waste time with 2, 3, or 4 companies. Planning the timeline of your day just got a lot easier! We can coordinate everything from DJ/Emcee to photo, video and photo booth. Scheduling meetings and choosing vendors can be very time consuming (and not very fun). Share your day's vision with one company which matches you with the most suitable professionals.
Get Better Results...
One team will work together seamlessly and not miss a beat guiding you through your day with less stress and worry. Get guidance from our coordinator making the time line of events, then let our on-site team follow through with your wishes. For example, our DJs make sure our photographers and videographers are ready before announcing important events. Plus, our photographs and videographers don't "compete" for your attention, and don't walk in the foreground (or background) at crucial moments. This ensures that each of your professionals are on the same page, giving you the best final results!
Save Money...
We have lower overhead thanks to sharing marketing costs, lower rent and one central team to serve you. Take advantage of this practical approach to cutting costs- not quality. The more services you get through us, the more money you save.
Ready to Bundle?
Tell us the details of your day and we will make sure you get the best, customized package for your money.
Contact Us